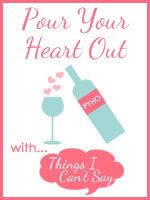 It seems to be all I can do today. Pour my heart out...in silence. Sometimes you just have to suck it up and suffer. I am in physical pain. I am so tired of hurting. I feel as if life is swirling around me and people are living and here I am. I want to be how I used to be. I want so badly to feel good, run errands, decorate, paint all the things I love. Things that most people do each day without thought.
The pain is aging me...I can feel it. I can see it. I hate it! Then, at times, I feel so small. I remind myself that things will be better and could always be worse. I don't like focusing on the negative but when you are in pain it is so difficult to feel positive. Most days I can work through it. Today, I cannot. Today it owns me. Today it wins.
I guess I need to explain. Two weeks before my wedding, 18 years ago I was in a car accident. It wrecked my life. Since that day the old me is no more. So many doctors, so many diagnosis, so many test, so much medication. So much pain. It has been my experience people don't want to know. They just can't deal, and that's OK. The old me probably wouldn't either. You feel as if you are seperated ...going through time in a different screwed up rythm, slow motion kind of hell. On a good day ... you push through and show it you are stronger. On a bad day...you stay in your pajamas, in bed.
I have my computer, my music and time. Time to think about all that I so wish was different. Then, I hear my Aunt always saying..."this too shall pass." I know it will but today....I am pouring my heart out and I want to scream, cry, sleep and wake up and it all be a dream. I am so tired of what it has reduced me to. I want a smile on my face stretched from ear to ear. I want a pep in my step. I want to laugh so hard that I cry. I want you to rock me, and tell me stories or just talk. The sound of your voice is so comforting...something I know I can count on. But you are there, and I am here...in pain...alone.
Pain pain go away...
Come again another day...
Little Carol wants to play.
Find another victim. The sun will come out tomorrow, tomorrow will be better. That's all I have for now. God, I hope it's enough. OK enough.